INTURN 340 draaimachine
Merk : Intos
Type : INTURN 340

Ø 340 mm, l = 700 mm
Productomschrijving
DESCRIPTION:
THE PERFECT MACHINE FOR SMALL-SERIES
The new INTURN 340 and 400. Easy of use and ergonomics has been enhanced. And on the Digitalversions the highly modern 3-axis digital display with 99 tool positions, 99 contour points, constant cutting speed and infinitely variable speeds.
Excellent ergonomics and high repeat accuracy are key issues when you machine small series. That's why our customers appreciate the INTURN's automatic spindle brake; it's infinitely variable speed control, and its constant cutting speed. And of course time is precious, so we've built in a high-efficiency drive to maximize chip-removal speed.
High Productivity. Standard features that maximize machine output: digital read-out, spindle brake, Camlock spindle nose according to DIN 550229 S-5, spindle bore diameter 50 mm.
Machine design. The main spindle runs on adjustable precision bearings, with a spindle diameter in front bearings of 70 mm. Gears, tailstock quill and guideways are hardened and ground to ensure maximum precision and durability. Bed and cross slide are connected to manually operate central lubrication point. The connection between the machine bed and machine stands is via a 3-point support making the system torsionally rigid. Therefore, no special foundation or tedious leveling is necessary. The vibrationdamping and noise-suppressing stand ensures smooth operation. The maintenance-free apron gearbox is readily accessible for servicing and adjustments.
STANDARD EQUIPMENT:
1 driven pin
1 longitudinal stop
1 MT 3 lathe center
1 single tool post
Operating and maintenance tools
Tailstock
OPTIONAL EXTRAS:
Mechanical collet attachment
Quick-change tool holder: Multifix or Parat
Foot-operated brake
Hollow-spindle stop
Chip protection door
MACHINE SPECIFICATIONS:
WORKING CAPACITY
INTURN 340 SMART
INTURN 340 DIGITAL
Swing over bed
mm
340
340
Swing over cross slide
mm
190
190
Distance between centres
mm
700
700
Max. weight of workpiece between centres
kg
150
150
SPINDLE
Bore
mm
50
50
Spindle speed
1/min
55-2 350
40-3 000
Spindle nose size
CAMLOCK
DIN 55029 S5
DIN 55029 S5
Output 100% / 40%
kW
2,4/3,2
4,0/5,3
CARRIAGE
Working feed (longitudinal)
mm.ot-1
0,045-0,787
0,045-0,787
Working feed (cross)
mm.ot-1
0,023-0,406
0,023-0,406
LEAD OF THEAD
metric treads
mm
20 (0,4-7)
20 (0,4-7)
WITH GEAR SET OPTION, ADD.
module theads
modul
28 (0,2-3,5)
28 (0,2-3,5)
Diametral Pitch threads
D.P.
32 (8-112)
32 (8-112)
TAIL STOCK
Tailstock sleeve diameter
mm
50
50
Taper of the center
MT3
MT3
Tailstock sleeve travel
mm
120
120
MACHINE
Total input required
kVA
3
7
Length
mm
1 650
1 650
Width
mm
1 016
1 060
Height
mm
1 290
1 635
Weight
kg
725
755
Digitální odměřování
kg
no
Standard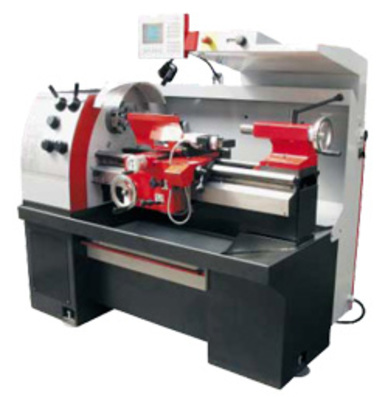 Deel deze pagina: