INTURN 280 draaimachine
Merk : Intos
Type : INTURN 280

Ø 280 mm, l = 650 mm
Productomschrijving
DESCRIPTION:
Small. Precise. Top quality.
The INTURN 280 is a small conventional lathe for the most demanding tasks. In lieu of a gearbox the EMCOMAT 14 has an infinitely variable electronic speed regulator. A motor with formidable 5,4 kW (7,24 hp) drive performance provides the necessary torque - unheard of for a lathe of this size. The INTURN 280 also offers the option of an integrated digital display.
The technology. Headstock made of vibration reducing, heavily ribbed grey cast iron. The stiff, large main spindle moves on high-precision, adjustable tapered roller bearings. Short taper connection CAMLOCK ASA 5.9 D1. Reverse gear unit completely enclosed. Scraped gear wheels and the axial shift when reversing raise operating reliability and running smoothness.
Slide: longitudinal slide with no-play prism guide. Setting with pressure strip. Feed automatic or with hand wheel. Longitudinal and cross slides can both be clamped. The upper slide with swallowtail guide can be pivoted 360°. The feed lever with safety lock prevents the longitudinal and cross feeds from interconnecting.
Infinite speed adjustment. The INTURN 280 does not have a manual transmission. An electronic speed regulation system and no less than 5,4 kW (7,2 hp) drive performance ensure the right speed and torque across the entire rpm range.
STANDARD EQUIPMENT:
Machine including machine stand
Single tool post
Electric chuck guard
Belt drive for feed gear mechanisms
1 center for main spindle and tailstock
3 shear pins
Driving pin
Operating and maintenance tools
OPTIONAL EXTRAS:
MACHINE SPECIFICATIONS:
WORKING CAPACITY
INTURN 280 SMART
INTURN 280 DIGITAL
Swing over bed
mm
280
280
Swing over cross slide
mm
170
170
Distance between centres
mm
650
650
Max. weight of workpiece between centres
kg
80
80
SPINDLE
Bore
mm
40
40
Spindle speed
1/min
60-4 000
60-4 000
Spindle nose size
CAMLOCK
DIN 55029 S4
DIN 55029 S4
Output 100% / 40%
kW
5,4/7,5
5,4/7,5
CARRIAGE
Working feed (longitudinal)
mm.ot-1
0,03-0,3
0,03-0,3
Working feed (cross)
mm.ot-1
0,015-0,15
0,015-0,15
LEAD OF THEAD
metric treads
mm
14 (0,25-2,5)
14 (0,25-2,5)
WITH GEAR SET OPTION, ADD.
metric treads
mm
13 (0,125-5)
13 (0,125-5)
module theads
modul
12 (0,25-2,5)
12 (0,25-2,5)
Diametral Pitch threads
D.P.
25 (96-11)
25 (96-11)
TAIL STOCK
Tailstock sleeve diameter
mm
30
30
Taper of the center
MT2
MT2
Tailstock sleeve travel
mm
80
80
MACHINE
Total input required
kVA
7
7
Length
mm
1 280
1 280
Width
mm
730
730
Height
mm
1 480
1 480
Weight
kg
243
243
Digitální odměřování
kg
no
Standard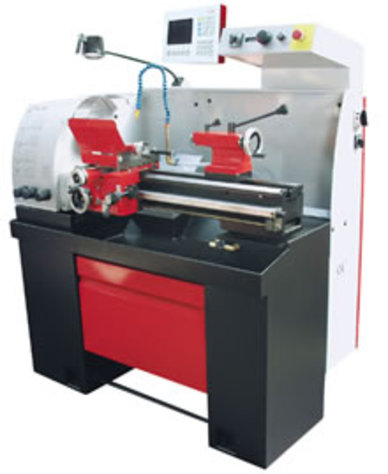 Deel deze pagina: